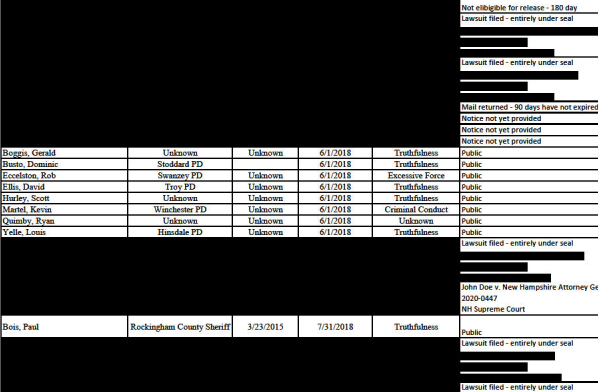 AG Reminds 'Laurie List' Police of Deadline to File Lawsuit to Keep Names Private
See InDepthNH.org's archive of the controversial Laurie List here: https://indepthnh.org/category/dishonest-police/
See the full January Compliance Report, with the most recent Laurie List, by the Attorney General here: https://indepthnh.org/wp-content/uploads/2022/01/20220114-ees-compliance-report.pdf
By NANCY WEST, InDepthNH.org
CONCORD — Attorney General John Formella sent a press release on Monday reminding officers on the Laurie List of Dishonest Police Officers of the deadline to file a lawsuit seeking removal from the list or having their names made public.
Formella said Tuesday, March 29, 2022 that his office will release the names of officers who have been added to the Laurie List, now known as the Exculpatory Evidence (EES) List, by April 30, 2018, unless the officer has timely notified the Department of Justice that he or she has legal action pending regarding his or her placement on SEA.
Publication of names and related information is required by RSA 105:13-d, which came into force on September 24th. Prosecutors use the unredacted list to indicate when they should alert defendants that officers involved in their case have been disciplined for dishonesty. , excessive force or mental illness.
In order for an agent to prevent their name from becoming public, state law requires that, by Monday, March 28, 2022, the agent provide the Department of Justice with actual notice that their legal action has been filed, says Formal. These notices must include a copy of the summons, complaint and any other court order issued in the matter.
The law provides officers with the ability to argue in Superior Court why their name should be removed.
Formella has stated that notices should be sent to the following address:
New Hampshire Department of Justice
Civil office – Civil litigation unit
Attention: Matters Relating to Timing of Exculpatory Evidence
33 rue du Capitole
Concord, NH 03301
In addition, officers providing notice may also wish to email them to Sam Garland (Samuel.RV.Garland@doj.nh.gov) and the Civil Bureau's general email mailbox (Civil.Bureau@doj .nh.gov).
"Please do not submit notice to the Department of Justice in any other manner, as this may prevent the Department of Justice from seeing or processing your notice in a timely manner prior to the March 29, 2022 posting date," a said Formella. "If you have provided notice and wish to confirm that the Department of Justice has received it, please contact us at 603-271-3650."
Formella released the first compliance report required by the new law for the defense evidence schedule in January, showing that 38 officers had filed confidential lawsuits in Superior Court arguing that they should be removed from the list. Compliance reports are due quarterly.
The report, which was due by January 1 but was dated two weeks later, says there were 265 names on the list, 254 had received notices and 75 had been made public so far. with more expected soon at the end of March.
Names already released had only 90 days to sue due to when they were placed on the list.
The report showed that 10 people had not yet been contacted because they are dead, serving in the military overseas or there is no known address for them.
Senior Assistant Attorney General Geoffrey W. Ward said Monday the office is notifying next of kin or executors to see if they want to take legal action to protect the confidentiality of the names of deceased officers on the list.
That compliance report did not include any of the 30 confidential names the attorney general has removed from the list since 2018 using internal protocols, half of them since the new law took effect. Ward said a handful of officers have more recently requested to be delisted through this protocol.
The attorney general first released 90 names in January, but then redacted 15 of them again because the office was unaware they had filed in Superior Court.
The first release caused a stir as well-known police officers, ex-police officers and police chiefs are now known to be on the list.
Although the new law states that an updated version of the SEA must be posted on the Attorney General's website every month, there has been no update since that of December 31, 2021. Ward said it's because it's a new process and the updated version will be released next week.