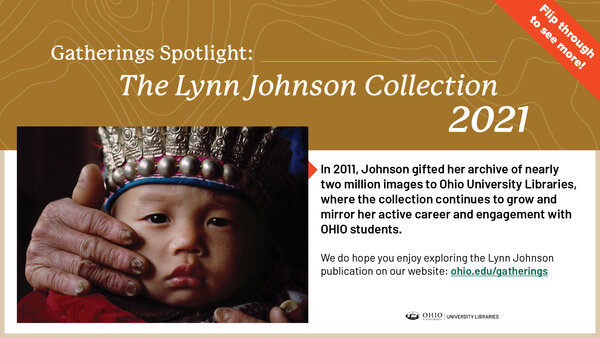 Gatherings Magazine Shifts to a New Online Format; showcases the Lynn Johnson collection
Graphic design by graduate student Brooke Stanley / Ohio University Libraries.
Ohio University Libraries spotlight the work of acclaimed photojournalist and former Ohio University Knight Fellow Lynn Johnson through a new, fully online format that provides easier access to the Gatherings Spotlight library donor publication. The new online issue of "Gatherings Spotlight: The Lynn Johnson Collection" can be found on the Libraries website and includes photographs from the Lynn Johnson Collection, as well as images from her personal collection.
The Lynn Johnson Collection has been a cornerstone of the University Library Documentary Photographic Archives since it was donated by Johnson in 2011. Given in the original filing cabinets where Johnson kept and organized his work, the collection includes no only photos, but working drafts. , handwritten notes and other personal comments from Johnson.
The post also includes the original captions for some photos, additional information about each project, and quotes from a May 2021 interview with Johnson, in which she talks about her 40-plus years as a woman in the field (mostly). dominated by men. photojournalism.
"When I started as a photographer about 40 years ago, the lines and labels that denoted what kind of photographer you are were well defined and people tended to stay within the lines," Johnson said. "Today that is changing, which I think is good."
Johnson has traveled all over the world for his career and remembered some of his older work for this Gatherings Spotlight. She recalls the challenges of entering places like Russian police stations or homes and classrooms in China to take pictures.
She once traveled to China for LIFE magazine, for example, to photograph the early stages of the construction of the Three Gorges Dam on the Yangtze River. One of the photos taken by Johnson was posted with the caption: "Although there is heavy earthmoving equipment, the Chinese are doing this project like they have done all the big projects in their history. They use the most abundant resource, the sweat and blood of ordinary "man" … "
In the May 2021 interview, Johnson also opened up about the power that images can have and what it means for her to be a documentary photographer.
"I see myself as a journalist with a camera, a documentary photographer," she said. "And as someone who is increasingly interested in photography and photographic projects who live on the spectrum of visual storytelling from pure documentary work to work created with militant intent."
Johnson's work covers the resilience, courage and innovation of human beings by capturing the everyday moments of ordinary people. His career spans the 1970s to the present day and has appeared in Pittsburgh Press, LIFE Magazine, Sports Illustrated, and National Geographic, among other publications.
"[Some of] these stories were made many years ago when I was a young photographer, "Johnson said. "But I don't think much has changed about the way I like being around strong human emotions and complicated human lives."
The Lynn Johnson library collection is incredibly diverse and consists of thousands of items. Whether studying photojournalism or just taking an interest in Johnson's work, the collection is likely to appeal to everyone, whether they are interested in political and social movements from the 1970s to the present day, or who 'he is interested in the daily life of people all over the world.
To learn more, visit the Lynn Johnson Collection in Ohio University Libraries or contact Laura Smith, photo archivist, at smithle@ohio.edu.